Saying farewell to a painter
The painter has almond-shaped eyes. He looks at her now and prepares to blink. She comes from a long line of blues and greens, so when she first encountered his ,  different shape and brown ,  she did not notice them. Now, it seems, those eyes really do dip down into his soul. For her, they do.
The man is wearing flip-flops over socks, munching on chocolates. She realizes she has never seen him eat chocolates before. He is resistant to all kind of treats, which relaxes their days together: No chocolates means that she does not have to fend off her sweet tooth in his presence. He is, after all, sweet enough anyway.
Right now she creases her forehead and fixates on his chocolates. He struggles to interpret this rare expression of hers but in stoic fashion returns his attention to the review between them. They have been sitting opposite each other in silence for a while now. These moments always gave her comfort. But not today.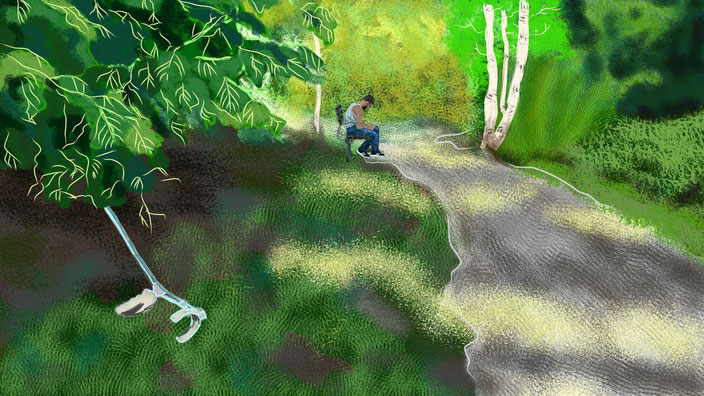 As her gaze wanders around his workshop she is cooking up the courage. She is going to tell him why she has to let him go. It is all laid out in her head: She has stretched and shortened it. Chopping up thoughts to piece them back together, differently. In the end, there is no way of saying this nicely. He will be hurt, she knows. She is hurting, too.
"So," he kicks her out of her revery. This is usually how one of his monologues starts, so she waits. Nothing happens. She scratches at the stained tea pot's rim. It screeches.
"Is it dirty?" he demands. She detects annoyance. Possibly due to a mediocre review. "No, no. Just playing with my food." He swallows, eyes back on the newspaper. She peeks at the tea stain on ivory china and suppresses the urge to make it screech once more.
---